Help with Ordering the
Fantasy Football Manager Cheatsheet
If you have a Paypal account, log into your account and pay the $3 fee to download the Cheatsheet. Once you have done so, click the Go Back to Website button after you have competed the transaction. This will take you to the page where you can download the Cheatsheet.
If you do not have a Paypal account, use a credit card to complete the transaction. Then, send me an email at guru@fantasyfootballmanager.info with the Order number of the transaction. You will not be able to be automatically redirected to the download page. I will send you the Cheatsheet as well as the webpage URL where you can download the future updated versions of this Cheatsheet as we get closer to Week 1 of the NFL regular season.
I will try to get to you as soon as possible. My normal hours of operation are 10:00AM ET to 7:00PM ET. Although, I will try my best to get the information to you quickly if you place an order outside of these times.
Update 8/27 - If you are looking for a last minute cheatsheet and are having any difficulties, please send me an email and I will respond to you within a couple of minutes. The exceptions will be between 8:30PM and 9:30PM (Eastern Time) today (Tuesday) and tomorrow (Wednesday) as this is the time that I will be drafting for my final two teams. Also, I will usually be up just past 1:00AM EST and will be awake by 8:30AM EST. I will respond to any late night emails in the morning.
If you have any question, comments or concerns, please send me a message at the email address listed above or click on the Contact button at the bottom of the website.
Sample 2013 Fantasy Football Draft Cheatsheet
Here is a sample of what is contained on this Excel worksheet. In the download instructions, you will have the option to choose between the .xlsx format and the .xls format for those who still have Microsoft Excel 2003. The sample information shown is all of the rankings and stats for Aaron Rodgers and Drew Brees.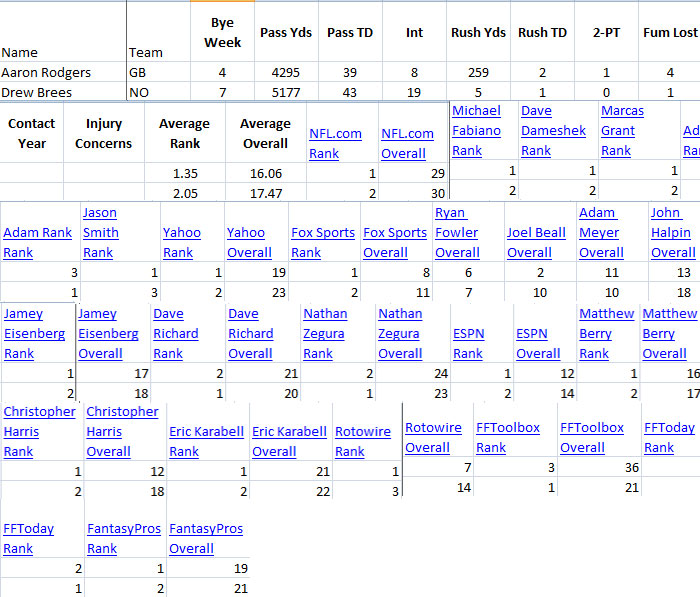 The Blue Underlined title for each section is hyperlinked to the webpage where this information can be found. The excel worksheet can be used to sort any of the columns so you can directly see the rankings from each fantasy expert or site.
This worksheet will be updated 4 more times before the start of the 2013 NFL Regular Season. You only need to purchase this one time. You will receive the URL to the Download Webpage. Bookmark this page (Ctrl+D) and I will release the updated versions to be downloaded from that page.